Mandiri Sekuritas as the Best Investment Bank in Indonesia
PT Mandiri Sekuritas (Mandiri Sekuritas/Company) has been awarded as Indonesia's Best Investment Bank and Best Broker by the FinanceAsia Country Awards 2022. The 2022's recognitions have made the Company continued its strong position as the Best Investment Bank in Indonesia or 12 consecutive years and Best Broker for 8 consecutive years.
Mandiri Sekuritas is established in 2000 and providing customers with comprehensive and value-added capital market financial solutions. The Company obtained its business license as a securities broker and underwriter from Bapepam-LK based on Decree No. KEP-12/PM/1992 and No. KEP-13/PM/1992 dated 23 January 1992.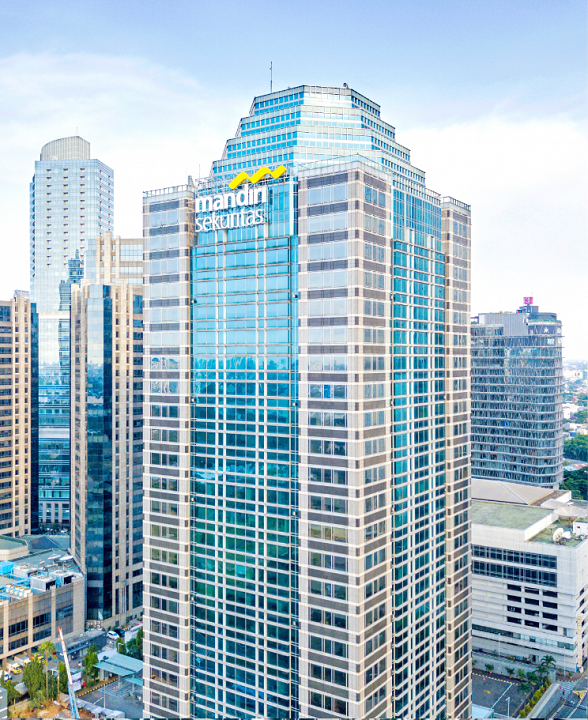 Wide Distribution Network
Mandiri Sekuritas is supported by a large distribution network of branch offices that spread across various big cities in Indonesia and one branch office in Singapore (Mandiri Securities Pte. Ltd.). Its Singapore subsidiary made Mandiri Sekuritas as one of the local securities company that has regional reach.
Vision
Becoming the leading capital market services provider in Indonesia.
Mission
Strengthening leadership in investment banking services.
Improving presence in the regional & global market.
Becoming the key player and number one brokerage house in the retail & institution segments.
Value
Trust : Maintain the trust given
Competent : Continue to learn and develop skills
Harmonious : Take care of each other and respect differences
Loyal : Dedicated and prioritizing the interests of the nation and the state
Adaptive : Continue to innovate and passionate to lead or face the change
Collaborative : Build a synergistic collaboration
Why Mandiri Sekuritas?
01
Providing comprehensive capital market solutions
02
The only Indonesian securities brokerage which reach Asian regional market
03
Has strong capability and credibility that are recognized locally and internationally.
Management & Organization Structure
Mandiri Sekuritas' Subsidiaries
Mandiri Sekuritas is supported by 2 (two) subsidiaries: Mandiri Manajemen Investasi and Mandiri Securities Pte. Ltd. (Mandiri Securities Singapore).
Mandiri Sekuritas' Achievements
This is Mandiri Sekuritas' journey of achievements since its first establishment up until now.
20
00
Mandiri Sekuritas was established as a securities company as a result of the merger of several companies under Bank Mandiri
Our Awards